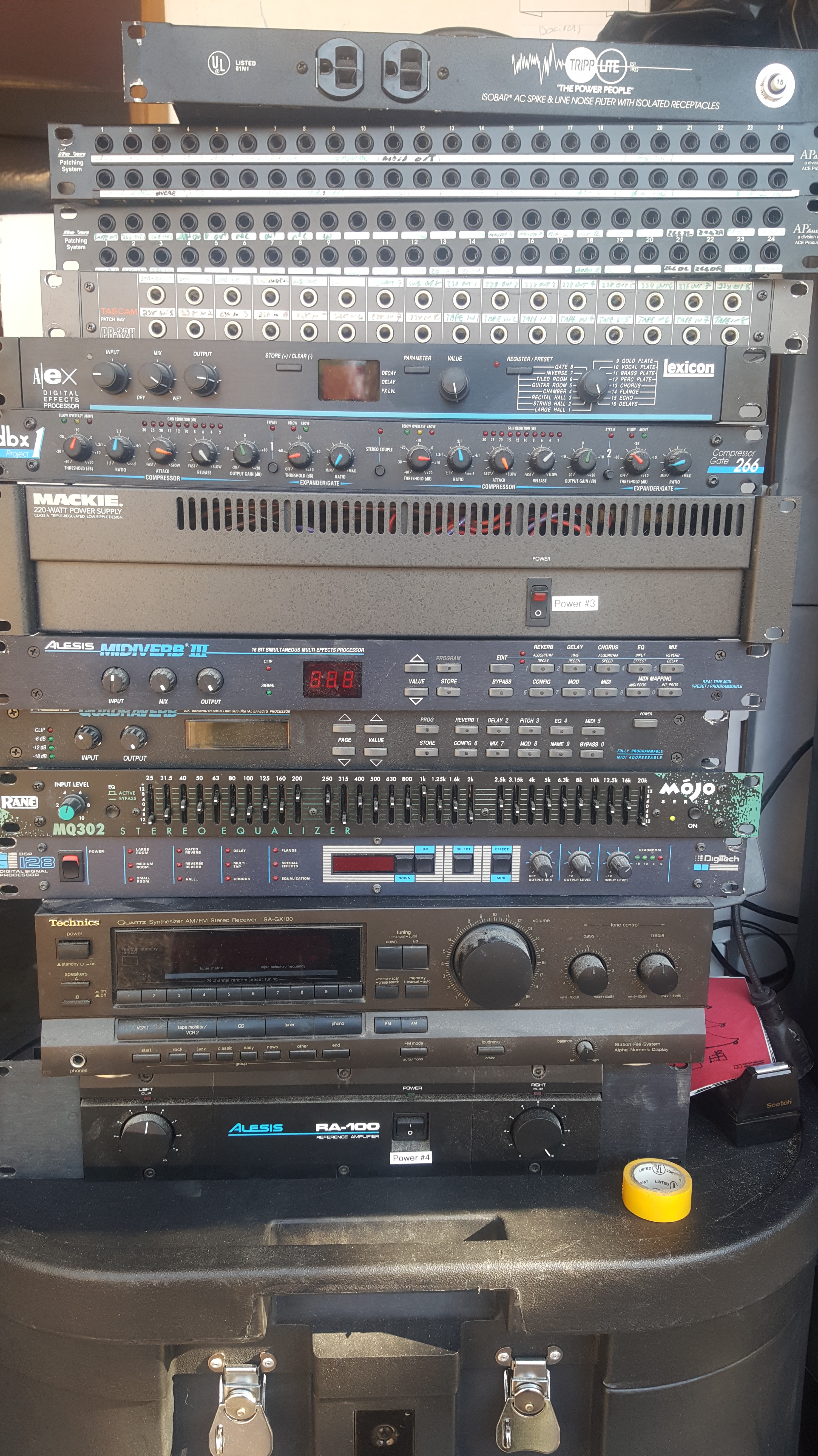 When our house in San Jose didn't immediately sell when we put in on the market, I decided to take the heartbreaking step of demolishing the 3-room recording studio I'd painstakingly built in my garage, restoring it to a plain-old two-car garage. Whether due to chance, or (I prefer to think) since it opened up my home as a potential purchase to folks who had no idea what they'd do with a recording studio, the home sold soon afterward.
Although Carolyn and I definitely worked hard to cull the herd of our possessions before making the move to our new home near Nashville, most of my former studio gear made the trip–even though I don't have a studio in the new house. As I try to piece together my new office and work area, however, I'm starting to think that I made a mistake in hauling most of the analog studio gear across the country.
Starting tomorrow, everything from my treasured 32-channel Mackie mixing board, to my vintage Kawaii R-100 drum machine, to a rack full of effects processors is going up on eBay. And my old studio furniture–custom-designed for my control room–is heading for the dump. The mere thought of doing this is killing me, but I'm increasingly convinced it has to be done.
Music Gear vs. Technology: Fight!
Whereas classic instruments and microphones can hold or even increase in value over time, the same is almost never true of electronics. Many a musician gets a thrill playing with the controls of an original Linn drum machine, or listening to unforgettable sounds of a Roland D-50 or Korg M1 synthesizer. But now, modern musicians can simply load up the sounds and characteristics of these old pieces of gear into their DAW (digital audio workstation) instead of maintaining a private museum of vintage gear.
My rackmounted effect units weathered the test of time even less well. The effect processing powers have improved massively in the past many years, to the point where even famous effects–e.g. a Lexicon reverb–can no longer compete with the algorithms and processing that powers a modern computer-based DAW.
Perhaps more to the point, my analog effect units are starting to no longer fit into the modern recording process.
Most older rackmount effect units typically processed analog signals (such as the input from a microphone or guitar), giving out an altered signal (i.e. adding reverb) over the rack effect's (analog) outputs. If you wanted multiple effect processing on a signal–e.g. adding a delay, some reverb, and a chorus effect to a guitar tone, mixing it in with the bass and drums, then routing the result a compressor to smooth out the dynamics of the resulting mix–you'd accomplish all this by patching the whole signal chain through numerous effect units, effects returns, and submixes, adding a little bit of distortion each time the signal had to be converted between analog and digital.
In the modern world, once a signal is digitized, it's typically processed entirely in the digital realm, where it's immune to the noise that comes with analog combining, as well as multiple trips between the analog and digital worlds. Instead of chaining together several rack units using patch cables, a DAW lets you create a virtual patch bay allows the musician to chain together as many digital effects as they want, while keeping the resultant output entirely digital–right up to the time it's mixed, mastered, and pressed on CD or distributed over the internet.
In a world where you can do all this digitally, why use analog effect units at all? Possibly the best reason comes down to the ease of doing a simple effects chain by just plugging in cables and twisting knobs. But when sound quality is critical, or the effects chain gets complex, digital wins hands down. My old rackmount effects have some good tricks up their sleeve, but at some point they become John Henry working against an infinite number of steam shovels.
In a new home, without a dedicated performance room and control room, I've got to be able to do the entire recording and performance job in a relatively compact space. Switching entirely to a digital recording chain just seems to make the most sense at this point, even though I'll definitely miss the immediacy and tactility of working with dedicated sound and effect units vs. the rather abstract nature of a DAW.
So, it's with real sadness that I'm preparing to bid farewell with what are truly some of my most cherished possessions. If you're the sort of person who loves classic gear, check out eBay in the weeks ahead for some real bargains.