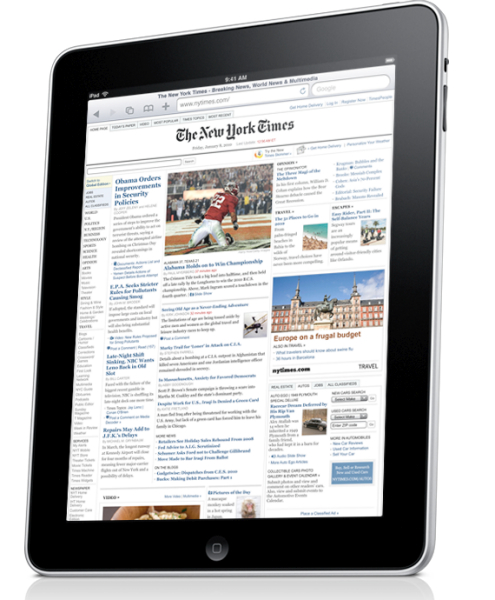 At CES, the buzz was on 3D, but  my money is that the new consumer device most bought this year isn't shutter glasses and a new 120-240Hz TV, it'll be an e-Reader of some sort–and most likely one with a picture of a piece of fruit on the back.
Apple, of course, just announced their long-awaited (and unfortunately named) iPad. Starting at $499, it's a very slick piece of technology, although the gadget press overall seemed muted in their enthusiasm. Most of the critical comments centered on it being a "fourth device" (the others being a desktop, laptop, and app-phone) which doesn't really replace anything. While I'm sympathetic to the complaint about lugging yet another device around, I'd argue that for its intended audience it very well may replace something: books. And for many other people, at many times, it may also replace the laptop and television as ways of consuming entertainment on the go.
What we're seeing in the iPad is a new being: the media consumption device with a few capabilities to process and mark up media on the go. Unlike say, a laptop, it's not equally capable of both authoring and consuming media; it's fair to poor at the former, and outstanding at the latter. But luckily for Apple, most folks, most of the time, are media consumers.
Given the right ecosystem of content delivery, the iPad (and its successors) could prove as indispensable to people on the go as the tattered Dean Koontz paperback in their overnight bag. What's more, it has the potential to replace stacks of textbooks or (more immediately in my case) the need to carry around several hundred pages of product specifications and technical notes as part of a work project. It also has the potential to prove an amazing device for browsing the web–probably the most-favored (and little-recognized) time-killer next to watching television.
Lastly, the iPad is already changing the eBook game, bringing full color and snappy screen response as well as the ability to read all the books from both the Amazon Kindle and Barnes & Noble libraries (assuming Apple keeps to their promise that anything that runs on the iPhone will run on the iPad).
In the end, I think the iPad will succeed and find a way to become that fourth device in people's book bags. In all likelihood, it'll just replace a few of the books in order to make room for itself.