[digg=http://digg.com/apple/The_Apple_Tablet_and_The_Future_of_Comic_Books]
Noted comics writer James Hudnall writes in his blog that the rumored Apple Tablet (concept art shown below) could wind up saving the comic book industry. I agree that the Apple Tablet is going to be hugely disruptive to the print media world, for many of the reasons listed in another blog.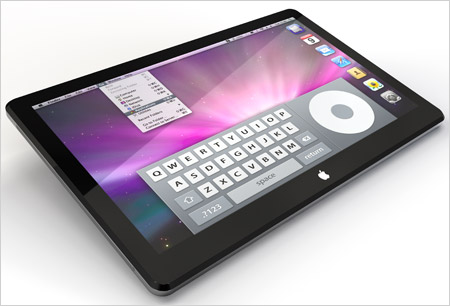 Here's how I see the whole thing playing out: Sometime in January or February, Steve Jobs will get up on stage and announce the Apple Tablet. Essentially, it'll looks like a big iPhone, complete with touch screen, glossy plastics, and impeccable industrial design. Wi-Fi is also a given, along with some sort of interface (Bluetooth?) which lets you set it in an equally impeccable cradle for charging, keyboard, and mouse access.
But the real win is going to be as a portable media "slate"–think HD movies, full-screen video conferencing, and the like…and then imagine reading a book on it.
This is where Jobs turns the demo over to little Johnny from Public School 323 somewhere. Johnny's class will have been road-testing the Apple Tablet for their science textbooks, and he'll hold up the tablet to the camera where it shows an elegant textbook cover which "opens" through the use of a gesture. Pages will be "riffled" similarly until Johnny arrives at some science diagram, perhaps showing the way an LED emits photons. Johnny will then tap the diagram with his finger, and it  will come to life showing an animation depicting the whole process. Next will come history books showing famous speeches next to the picture of the speakers involved, recipe books showing video instruction for the dishes being cooked, etc.
And then–if I were Steve Jobs–I'd have Amazon's Jeff Bezos come out on stage and announce that all those jillions of Kindle books which can already be read on your iPhone will also work on the Apple Tablet. Ditto for the Barnes and Noble book inventory.
So what about comics? Well, for a start it's easy to imagine Marvel…err.. I mean Disney (of which Jobs is a board member and single largest stockholder) doing comics either specifically for the platform (a la Spider-Woman: Agent of S.W.O.R.D.) or simply making sure that the already-strong Marvel digital offerings include making it possible to buy any current (and possibly older) Marvel comic directly through the device at a fraction of the cost of buying it in paper form.
Although motion comics are expensive to produce, and still in their infancy in terms of technique, all modern comics are likely to pass through a digital "final" form (e.g. PDF) on the way to the printer anyway. Running it through a batch process to whip out the digital reader version is simplicity itself for the publishers.And if they sold the digital copy in a way which clears them a single dollar per copy, they'd already be more profitable to publish than the paper versions.
In this digital future, you'd lose the feel of paper and some of the other qualities (not least of all resalability) of the physical comic, but readers would also have them in pristine, archival format for an eternity without needing filing, comic boxes, or bags. And they'd cost a lot less–probably no more than $1 to $1.50 per issue.
Not everyone will go for it–at least not at first–but expect a larger and larger percentage of the comic buying audience to switch to digital in the same way that newspaper readers have. (And the month that an Australian reader can get their Marvels in this format for $0.99 instead of the $7.50 or more they currently pay, it's all over on the newsstand).
At first, expect the readers–especially Apple's–to be expensive enough that they appeal mostly to early adopters and those with fair amounts of spending money. But that's not such a dissimilar demographic from the comic buying audience as a whole right now (comprised mostly of post-college males with higher than average family incomes). I think the digital future will be one us far faster than most would dream now.
To steal a surfing metaphor, a big wave is coming for the world of comics. You either gotta get on your board and ride it, or get prepared to go under.
[polldaddy poll=2151816]