Thursday
We'd started out from San Jose, driving through Reno en route to Salt Lake City. It was the first day of the trip, and it was due to be the longest single day's drive: over 768 miles in 11 hours.
We stopped for gas in Reno, and decided to walk into The Nugget to grab a coffee and do a restroom break. As soon as we got into the casino, however, our Californian noses were shocked by an alien–yet strangely familiar smell…tobacco!
Yes, Dorothy, we were not in San Jose anymore. In Nevada people are actually allowed to smoke. Indoors, no less!
But it didn't stop there. In Nevada, you can talk on your cell phone when driving. And gamble. And you can drive 75 miles an hour legally on the highway (which meant I was doing 80, using the old traveller's logic of, "Heck, the cops have gotta spot you five miles over the limit!")
Giddy with freedom, I was also drawn to the numerous signs on the highway past Reno pointing to a fireworks outlet store. On a whim, I turned off the highway and discovered a shop crammed with enough consumer-grade explosives to make even the Mythbusters giddy with glee.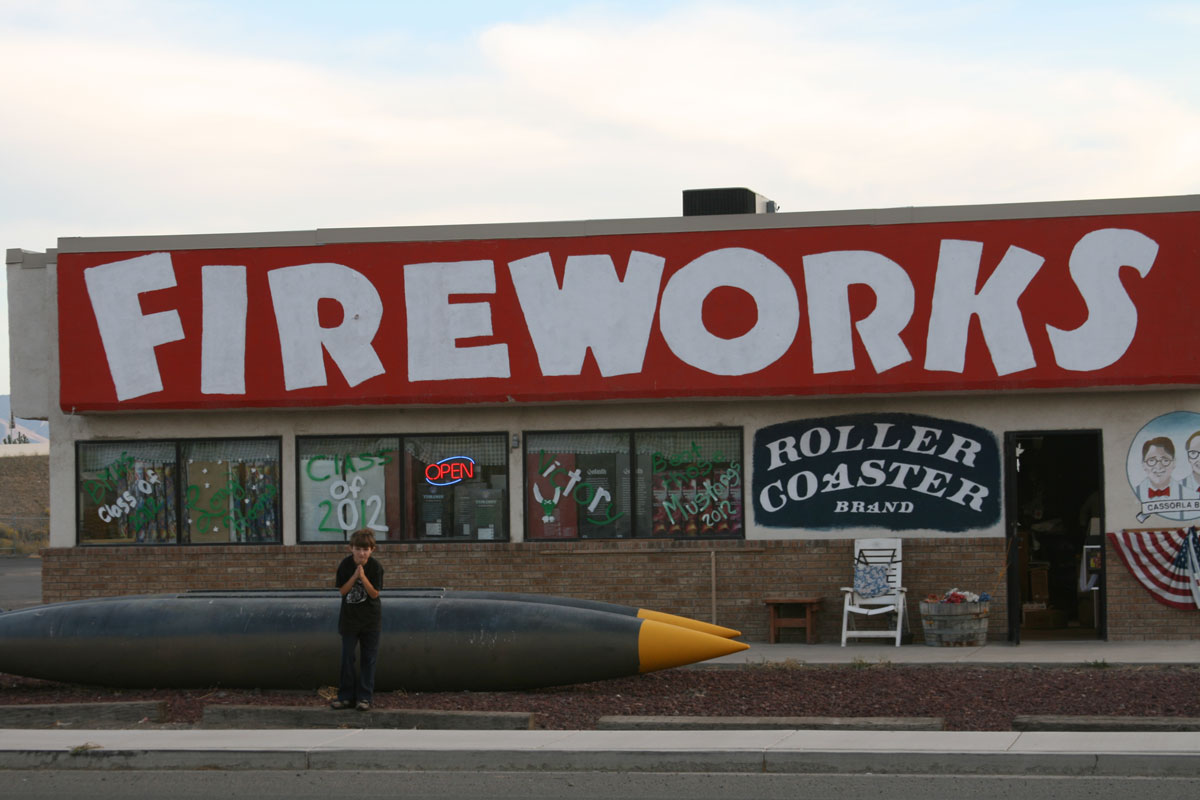 "Can I take a picture of these?" I asked the baseball-hat-wearing proprietor?
"Are you a member of a law-enforcement agency?" he asked, as a reply.
I assured him I was not, and right then, I knew I was at The Coolest Place on Earth. The whole store was stocked to the walls with colorfully wrapped explosives with awesome cartoons advertising their particular pyrotechnic properties.
"Those ones over there are the 'safe and sane' ones that are legal in California" he said, pointing to a decidedly less impressive collection of wussy fireworks. "Which way are you headed?"
"East" I said. And immediately began heading for the rows of rockets, shells, roman candles, firecrackers, smoke bombs, multiple launchers, and other wonders of modern explosive technology.
My increasingly worried family looked on as I started grabbing one find after another. The proprietor helpfully answered my questions about each device, as well as providing suitably gruesome cautionary tales of the people who'd shot rockets at each other, held onto flying fireworks devices, and tried to use exploding toy boats in the family bathtub. I promised to do no such thing, and proceeded to pile my arms with illegal-in-California explosive after explosive. I figured that in some fireworks-friendly state far from Nannyvile, CA, where I apparently lived, I was going to have about ten wonderful minutes of illicit-where-I-live pyrotechnic fun. I couldn't wait.
"Really… uh… I think that's enough, Dad" said Neil, worriedly noting the growing stack of munitions in my arms and moving to interpose himself between me and the row of heavier duty shells. Reluctantly, I headed for the counter, but the proprietor insisted on showing me a few extra things, and even threw in a lighting punk, and a few extra fireworks "for the kids".
I was just one state away from home, but already the trip was off with a bang.