Confession time: I rarely attend the Eisner Awards. As much as I love and respect my fellow industry types, it's a hard slog to make it through a three or four hour ceremony at the end of a 14 hour day on the show floor. But this year, thanks to a tip, I made sure I showed up.
After almost all the awards had been given out, Maggie Thompson from Comics Buyer's Guide ran a slide show saluting the great folks the comic industry had lost this year. And along with legends like Creig Flessel and Michael Turner, she showed a slide I'd taken from Wondercon a couple of years ago on a sunny day outside the Moscone convention center. My son Neil had been six at the time, but was cropped out of the photo to better show the man he'd been sitting next to: my friend John Simpson.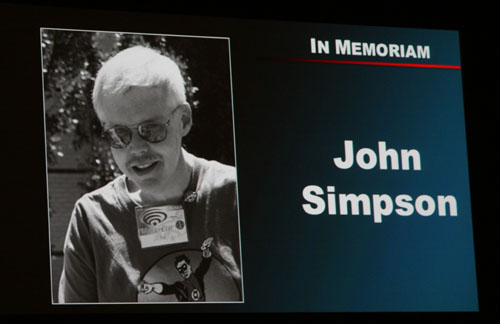 John passed away this past October due to mesothelioma, and this was the first Comic-Con I'd done in a long time without having him stop by, lend a hand, and spend time hanging out between panels. I especially remember laughing ourselves silly at the Simpsons movie, which debuted during last year's show, and which the entire booth staff went out to see together along with John.
Near the end of his life, John gave me a letter that he requested I ask CBG to publish after his death. It was as touching a love letter to comics fandom as you'll ever read, and it was even entitled "Ruminations on A Life Well Spent With Comics" — playing on the fictional Simpson's own Comic Book Guy's shared feelings about the hobby. Seeing John's face up on the Eisner Award's display screen was a moving reminder of his love for comics and comics fandom…and a fitting tribute from that same industry to a man who is very much missed.
Comic-Con will never be the same without you, John.