I went to the mall this past weekend and let me tell you, it was a real horror show: the harried faces of the cashiers… the desperate visages of people who were starting to think they'd just made a terribly mistaken purchase…
…and that was just the folks lined up to see the Celine Dion movie.
Look, I'm just going to assume that you've already upgraded your friends to the best comic book collecting software on the planet. (Otherwise, you'd be over at www.comicbase.com ordering it now so that it can be under the tree for Christmas, right?)
But what if you want to do even more for the comic-lover in your life? Here's my list of sure-fire gift suggestions, broken down by price range:
---
$25 and under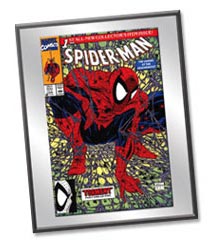 ($19.95: less in quantity. Bill Cole Enterprises)
Turn comics into wall art with these archival-quality frames. Mounting takes just a couple of minutes, and the book will be protected behind UV-inhibiting Plexiglas with acid-free mattes. It's a great way to decorate your comic room, or just get some of your most prized books out from those dusty long boxes (without locking them away forever in comic-slab purgatory!)
($14.95 –$16.95)

Pound-for-pound, these huge, black-and-white compilations are some of the best comic-reading values ever. For the price of four or five modern comics, you can read dozens of the most important (and expensive!) issues of yesteryear from your favorite characters.
The Marvel "Essential…" series features everyone from The Avengers to the X-Men, as well as lesser-knowns like Godzilla or disco-era mutant diva Dazzler. There's something here for everyone, and it's really hard to go wrong with them.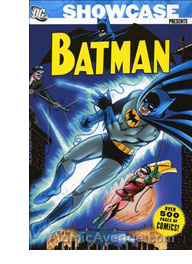 DC's Showcase Presents… series of black and white anthologies also pack in the value, typically presenting two dozen or more stories featuring a given character from DC's Silver Age in each volume. The stories are typically not from the legendary series Showcase, but from various other anthology titles such as The Brave and the Bold, World's Finest, and so on. It's a great blast of nostalgia an earlier era, and one which would impossible to duplicate without spending hundreds of times as much on the original comics. You can also choose from numerous volumes featuring everyone from space hero Adam Strange to The Unknown Soldier.
---
$55 and under
($49.95 – $54.95)
Whereas the previous anthologies go for quantity, the emphasis on these beautiful Archive editions is on quality. These are uniformly gorgeous hardcover volumes meant to be the definitive reference copies of the issues they cover, complete with restored art and introductions by the creators and comic historians.
The price on these books has been creeping up a bit in recent years (thus the fudging on the category breakdown), but on the bright side, they're typically reprinting comics which would cost tens of thousands of dollars or more each. The Marvel Masterworks: Golden Age Captain America pictured at left, for instance, reprints the seldom-seen Captain America Comics #1–4 in their entirety: something that would cost over $135,000 if you were determined that you had to read them in the original. These editions are guaranteed to impress—without requiring a new mortgage on the house.
DrawerBoxes™
(5-pack for $48.95, The Collection Drawer Company)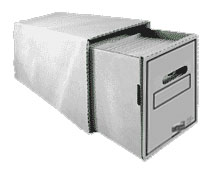 They're super-strong comic boxes which pull open like a file drawer, allowing you to avoid shuffling 40-pound comic boxes every time you want to get to a box that's underneath another one. You can get a five-pack for $48.95 straight from the company (or from various comic stores around the country—see their store locator), but I won't kid you: once you start using these, you're going to want to replace virtually every comic box you own with them. They make that much of a difference.
The minute I saw creator Rich Vincent demonstrate these by setting one on the floor, standing on it, then having someone pull out the drawer without causing the box to collapse, I knew we were going to be dropping some serious cash his way. The reality is, we simply couldn't file the hundreds of comics that come our way each week without them—and even folks with more sensible collections will have their backs thank them which you're relieved of the constant stacking and restacking which has been part of comic collecting for far too long.
---
$100 and under
($75–$99)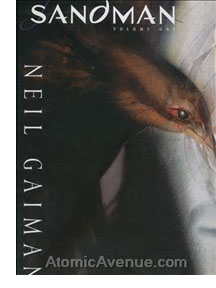 Watchmen is widely hailed as "the Citizen Kane of Comics" with good reason. More than any other, it's the series that established writer Alan Moore as a comics legend, and you could teach a film school course with the fine level of visual storytelling on display here. The Absolute Watchmen edition is an oversized, hardcover, slip-cased edition collecting the 12-issue series, complete with restored art, notes, and more.
The Absolute Sandman is a similar effort to collect the series which cemented writer Neil Gaiman's position in the comics pantheon. Loved equally by male and female readers, Sandman is widely regarded as one of the greatest comic series of the past century, garnered inordinate numbers of awards and praise, and was the only comic to ever win a World Fantasy Award. As a bonus, the Absolute Edition has, in its autographed form, a 100% record so far as a way to get your beloved to say "Yes" to your marriage proposal.
---
Priceless
Original Art
($5–125… possibly more… possibly much more)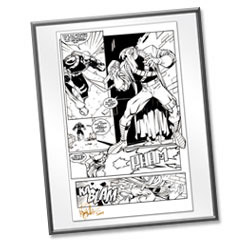 OK, if you're looking for the splash page to Amazing Fantasy #15, you need to talk to Sotheby's, not be reading somebody's blog for advice. On the other hand, one of the best-kept secrets of the art world is how really affordable original comic pages can be. Art for most contemporary comics can often be bought directly from the artist at a comic show—sometimes for as little as $5 per page. Splash pages usually start at around $100 or more, and covers run from a few hundred dollars to…well, a lot, depending on the artist and title.
Want to make a big impact on a budget? Pick up a page of art from one of your loved one's favorite comics, then have it framed next to the final, colored version of the same page. (But get a spare copy of the comic for this, please—this otherwise brilliant plan could go horribly wrong if you razor apart one of their favorite books in order to frame the page). Art shops like Michael's or Aaron Brothers can compose custom mattes for such a project, or just buy pre-made original artwork frames for $25 or so.
($30–$1,800 depending on the need for hotels and airfare)

Like Porsche: There is no alternative. The San Diego Comic-Con (officially "Comic-Con International: San Diego") is the most insane, crazy-huge gathering of comics and pop-culture in North America—many would say, the world. Last year, over 125,000 fans, dealers, industry-luminaries, and showbiz-types filled the San Diego Convention Center to capacity in a four-day spectacular of everything comic-related. These days, you're as likely to bump into Jessica Alba or Joss Whedon as a famous Golden Age artist, since Hollywood has started viewing Comic-Con as a great way to tap into fandom for both new ideas and as testing ground for new projects. You'll also run into the full cross-section of fandom including Star Wars, manga, indie-publishing, small press, gaming, anime, and much more. If you like pop-culture, it's like taking a long drink from a firehose.
If you live in the area, the main caveat is that tickets do sell out, so order online early. If you're coming in from afar, the biggest problem is hotel rooms. The convention-arranged hotels are affordable, but sell out of even the huge stock available in a matter of hours. By convention day, expect hotels to be sold out in a 30 mile radius of the convention center. So book early, enjoy the show, and expect to leave exhausted. (And stop by our booth while you're there! We're usually the ones with the huge rocket ship overhead).
If you love comics, you owe it to yourself to go to San Diego at least once: there really is nothing else quite like it.
Merry Christmas!